Guttering Repairs and Maintenance
London Roof and Gutter Clean's guttering services include gutter cleaning, gutter maintenance and guttering repairs, our premier services at competitive prices are carried out by experienced and competent service technicians that are fully insured.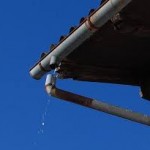 Preventative gutter maintenance is an essential procedure for ensuring that the detection, correction, and prevention of developing failures in your rainwater goods (gutters and down pipes) system, before they become actual or major failures that become costly to rectify and/or cause damage to your property. London Roof  and Gutter Cleans bi-annual or annual gutter clean, guttering repairs and maintenance service of your guttering is a proven cost effective solution to protecting your property from damp mould mildew or decaying/rotting structural damage to your property.
Unlike other Gutter Cleaning Companies our FREE minor repairs with all Gutter Clean services comes as standard and includes,
Replacement of damaged, Faulty and /or Missing  Clips Brackets, End Caps and Joiners
Replacement of Faulty and /or Missing Rubber Seals
 Sealing of all Known Leaks
Other Gutter cleaning companies normally charge for repairs so what seem like a low cost for your gutter clean with start to add up. Our London gutter cleaning service is 100% Free minor repairs.
Give us a call today and find out why we are a leading gutter maintenance service provider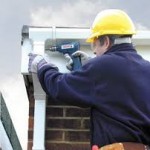 95% of all guttering cleans, minor repairs and maintenance services we provide to our customers and clients our service technicians  are able to ensure  the guttering system is fully functioning without the need for additional costs for major repairs.
On occasions it is inevitable that some gutter systems require additional works that are not covered under our free minor repair policy, this may be for instance the guttering requires realignment or large sections of gutter have become brittle and cracking. All our service technicians carry out a pre-works evaluation survey, if during the survey the technicians finds any major repairs that are required the customer/client will be notified prior to works commencing and  the customer/client will be given options for this, if the customer /client agree to the further works this will either be rescheduled or in most cases can be carried out at the same time. It is our companies policy not to carry out any work until the customer /client is in full agreement.
To discuss our London gutter cleaning, guttering repairs, gutter maintenance or guttering replacement service and request a free site survey or free no obligation quotation contact our Knowledgeable and helpful customer service team today