Office: 0203 375 8573                                Mobile: 0794 789 3248
London Commercial Property Cleaning Services
London Roof Clean provide a premier commercial property cleaning services including all surfaces cleaning at competitive prices for total customer satisfaction, we have experience carrying out cleaning works on many surface types.
Our Extensive Range of Commercial Property Cleaning Services
Graffiti Removal

Gum Removal

Cladding, Walls and Gullies

Car park Surface Cleaning

Canopies

Shelters (Bus/ Bike/Smoking)

Forecourts

Supermarkets

Compactor / Recycling Areas

Garages /Outbuildings

Service/Lorry Yard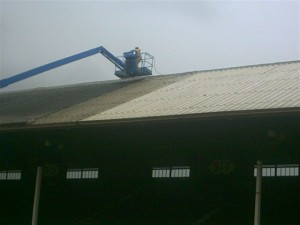 Why you may require our commercial property cleaning services
Over time the build up grime, dirt, algae, and moss, engine oils, general pollution and staining  can  leave your surfaces looking dull and unkempt, London Roof Clean have the solution and can have you surfaces looking as new. Weather you have a one of requirement or are looking for regular scheduled services no matter how small or large the surface area our premier service can be tailored to your exact requirements.
London Roof Clean technicians are fully trained using the very best equipment and cleaning materials to clean and renovate your surfaces back to their best. Our team is fully competent and experienced working on all types of surfaces having worked in commercial property cleaning services industry for many years. We pride ourselves on a friendly service of high standards and quality workmanship. We have specifically purchased equipment for all types of cleaning; our pressure washers have settings to ensure the correct pressure is used for different surface types.
Why Choose London Roof Clean's Commercial Cleaning Property Services
Preventative maintenance of you surfaces will ensure you get the most out of them and London Roof Clean recommends your commercial property cleaning services are carried out regularly.
below are a few reasons why you should select us as your preferred company for your commercial property cleaning services
All surfaces cleaning service includes
Rapid Response Call Out Service

One Off / Project /Contract Services

Fast and Efficient

Cost Effective

Environmentally Friendly

Specialized Equipment

Fully Trained Technicians Uniformed and ID

High Level Work

Health, Safety And Environment

Risk Assessments

Method Statements

COSHH
Health and Safety is a priority at London Roof Clean and instill this into our team through our "SAFETY MATTERS" campaign, we ensure that the teams always have the correct safety equipment & PPE. We carry out risk assessments /methods statements and will always ensure that the correct equipment. If necessary we use the following
We work with our clients to ensure work is carried with the least disruption; our service is completely flexible to suit the client's requirements.
To discuss your requirements further or to request a free no obligation quote use our enquiry form or call us now on 0203 375 8573